Many of the Madblood graphics are created by WTVZ-TV Production Manager, Madblood producer, and contributing artist: Jon Doughtie. Jon's artwork has been instrumental in setting the mood for Doctor Madblood's continuing story. Thanks for the creeps, Jon...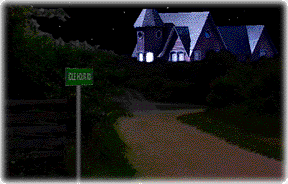 Leaving the main drag in Pungo, and on down Idle Hour Road looms the stoic Madblood Manor, proudly sitting between a decaying tributary of the Great Dismal Swamp and the edge of town. Although the driveway is overgrown with weeds, it's obviously well-travelled by the parade of mysterious visitors to Madblood Manor.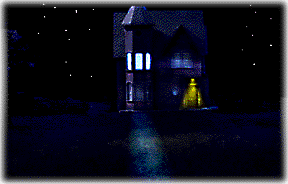 Cautiously approaching Madblood Manor, one is not sure whether the surrounding grounds are vermin-infested or just slithering. It seems that for every star in the sky, there is a pair of eyes out there in the bushes. And most likely the rustling noise in the bushes will inspire most people to run for their life.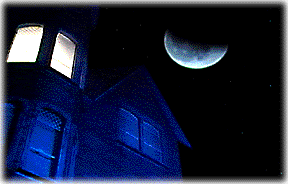 This is where you can usually hear strange noise, thumps, and laughing from within. Wandering around in front of Madblood Manor, this is the spot, the syzygy of elements if you will, that alerts the observant viewer to the self-preponderant coming of those pesky commercial breaks where the Madblood viewer loses consciousness, drifts off, and awakens in an infomercial.