---

Madblood Manor Makes Path of History in Portsmouth, Virginia
Discovered and Kindly Photographed by and in Memory of Ubermadbloodfan Chris Daubert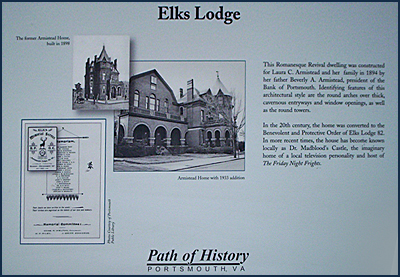 ---
See where it happens! Portions of Dr. Madblood Presents are filmed at the Hermitage Foundation Museum, 7637 North Shore Road, Norfolk, VA 23505; 757-423-2052; www.hermitagefoundation.org. Take a tour and tell 'em Madblood sent ya!
---
As you'll have discovered on the splash page, Doctor Madblood has opened Madblood Manor to visitors - or at least the rooms that are ready for visitors to explore. Check out the good doctor's crib in this in-front-the-scenes look at the home of Pungo's most famous resident.
The rich media experience of the Madblood Manor tour requires a high speed interent connection.
The Library has some video down at the far end with Doctor Madblood's Diary available on one of the bookshelves - and you can now find the Time Machine up and running with some vintage Madblood scenes down in the Basement where there are reports of Baron Von Basketcase hovering around for no apparent reason.
And be sure to check back every week for a new episode in the Theater up on the second floor!
Madblood Manor, starring: The Portsmouth Path of History Elks Lodge as the outside and The Hermitage Museum as the inside.

---

---

Stay tuned. More news as it becomes less available.