Is Doctor Madblood the Answer? Well, he is 42!
Be sure to join us on Saturday October 28, 2017 at 8 pm on WHRO-TV 15
Watch it on WHRO-TV Channel 15, digital WHRO TV 15.1, or online at on the WHRO website. New this year -- it will be live streamed on WHRO's Facebook page.
The movie is a real kerstinker, we will not lie -- "Teenagers From Outer Space."
Grab the popcorn, turn down the lights, and try to get through it.
Can't get enough Madblood? You can see previous anniversary episodes here.

More news as it becomes less available. Thanks for turning us on

---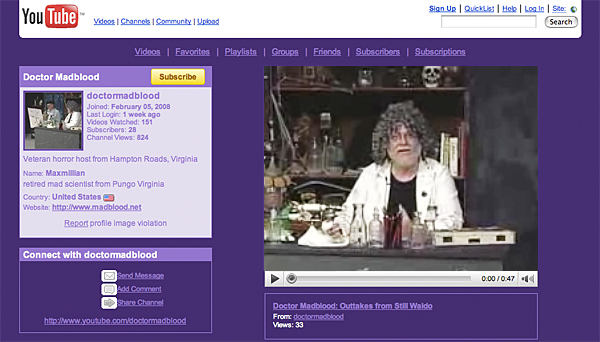 Be sure to stop by the Doctor Madblood Channel on YouTube for a growing video list of bleepers and outtakes from the Madblood television programs, early clips of bits and segments from the original Madblood 1975-82 series, and complete episodes from various eras of the Madblood series!

---

Determined to reach out to his fans in a more personal way, Doctor Madblood is on Facebook where you can check out new photos and videos - and perhaps give the good doctor a shout-out!
---
Featured in the "Walt Taylor Sketchbook" of Old Towne in the Virginian Pilot September 28th edition was an incredible illustration of a very well known icon to Madblood fans. The doc was thrilled to be included in Mr. Taylor's work!